"Our preference is for our events to be cashless because it provides a better customer experience on-site. With the cashless system, event attendees spend less time in queues and more time enjoying and spending in the event, while we also benefit from a clear record of transactions."
Events Director
Taste Festivals
Executive Summary:
Enjoyed in cities around the world, Taste festivals bring together world-class restuarants, chefs and premium culinary content to create the ultimate experience for foodies. Taste of the World, Riyadh is the latest event from Taste festivals, a six-day gastronomic celebration bringing together some of the world's best restaurants and chefs, to sell taster-size portions of their signature dishes. Additionally, festivalgoers could see some of the Kingdom's most exciting culinary talent cooking live, join in with food-tastings, take in private dining experiences, enjoy live music and more.
The Tappit system at Taste of the World, Riyadh recorded transactions across 14 restaurants and 3 bars to create a streamlined customer experience.
Challenges and Objectives:
For Taste festivals, a premium customer experience is paramount. A cashless payment system is the organisers' preference in order to minimise queues, facilitate spend in the event and provide a contemporary and premium experience. To maximise the customer experience, Taste and Tappit worked together to produce cashless communications collateral that would be used before the event online and on-site, ensuring visitors were well-informed.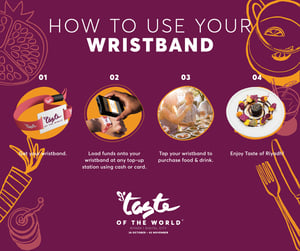 Results:
Minimised queueing time:

Thanks to the RFID system, queues were minimised because there was no need for cash handling or token exchanges at points of sale.

Elimination of fraud and theft:

Cashless payment systems ensure that all funds are accounted for.

Centralised data collection:

The sales data facilitates stock control and helps organisers better plan the event for next time.