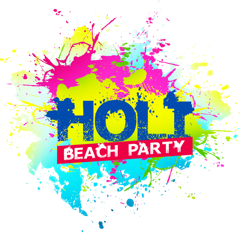 "Going cashless with Tappit really exceeded our initial expectations and goals. We received exceptional support from the preparations all the way until project completion and reaped all of the benefits: increased revenue, faster transactions and great behavioural and sales data for our future events. We look forward to working with Tappit again for our other events."
Sunil Sharma
Director of Hospitality & Events, JA The Resort
To improve customer experience and reduce queues, JA The Resort (BR of JA Resorts & Hotels L.L.C) Dubai used Tappit's cashless system at their annual Holi Beach Party and Holi Masti events.
Executive Summary:
Having held Holi events in Dubai for 8 consecutive years, JA The Resort has tried various types of cashless systems from vouchers to tokens, but by making the switch to Tappit's RFID cashless system, JA The Resort:
Increased overall spend year-on-year by

19.5% at Holi Masti and 1.61% at Holi Beach Party

Saw a

220% ROI
Completed 20 transactions per minute during peak hours

Collected

behavioural customer data and sales insights

to improve future events
About:
Dubai's largest experience resort, JA The Resort, celebrated the popular traditional Indian festival Holi – also known as the "festival of colours" – with two separate events due to the high demand, Holi Masti and Holi Beach Party. Both events presented various entertainment and activity options under the sunny skies of Dubai, featuring foot-stomping Bollywood music, food and more.
Challenges and Objectives:
JA The Resort has attempted to go cashless multiple times by using vouchers, but they never delivered the event as smoothly as they had hoped.
In one iteration of this system, JA The Resort tried using vouchers with pre-determined denominations (i.e. AED 20, AED 50, etc.), which caused more human error through the process of manual counting done onsite. At one of these events, they experienced a AED 50,000 loss due to the big discrepancies between the pre- and post-event manual reconciliations and stocktakes.
In an attempt to reduce these discrepancies, JA The Resort created a voucher for every item purchased. Rather than selling vouchers with monetary values, they sold vouchers for every unique food and drink items. This system resulted in long queues at the voucher sales station and at the food and drink vendors and still resulted in excessive manual work after the event for reconciliations.
Despite these drawbacks, the client believed that going cashless was still the best way to move forward operationally and enhance the guest experience. Determined to not make the same mistakes and face similar issues, they were looking for a robust, automated, insightful and easy-to-use solution for their annual Holi events.
Results:
Faster transactions. Speed was the main concern for the client. With the Tappit system, they were able to process 20 transactions per minute during peak hours, ultimately reducing transaction times and eliminating queues for the more than 16,000 transactions processed at the event.
Increased revenue. Implementing a true cashless system resulted in a solid 220% ROI and an overall year-on-year increased spend of 19.5% at Holi Masti.
Easy-to-use system training. Being a well-established hospitality resort, the client understands that introducing a new system could mean a long training process and potential setbacks with staff members. With only a one-month lead time , Tappit's user-friendly solution eliminated this worry. Beyond the training, Tappit also provided holistic support to make the onboarding and integration processes easy for staff.
Reduced analogue work and human error. Having experienced a major P&L loss and prolonged reconciliation processes when they used physical vouchers, the RFID system eliminated the need for manual counting or reconciliations, which resulted in less room for human error.
Accurate reporting and behavioural data. Having done the event for 8 consecutive years with various other payment methods implemented, the client had never had access to behavioural data and sales reports as comprehensive as the ones provided by Tappit. For example, the Tappit report showed that the peak transaction times were between 3 p.m. and 6 p.m., and that beer and samosas were the best sellers at the events. These insights could be used to encourage further sales through online top-ups, creating a food and drink combo, or through hawker staffing during peak times at future events.
More time to enjoy the festival of colours! With over 12,000 attendees basking in the colourful Holi celebration, getting their faces and bodies painted, and enjoying themselves to the vibrant Bollywood tunes, there was really no time for customers to open their wallets, use their cards or check if they had enough cash – having a Tappit wristband eliminated all of the hassles for the customers .