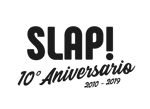 "Tappit was positive for both staff and the festival overall. We have only received good reviews and implementation for the festival was perfect. It is an essential tool that tracks the money and stock and provides complete information for organisers."
Víctor Domínguez
Director of Slap!
An incredible culmination of food, music and family-friendly activities, Slap! Festival is the ultimate experience for those enjoying the summer in Zaragoza, Spain.
Executive Summary:
Slap! Festival wanted to make the event a memorable experience for their attendees while simultaneously streamlining their back-end process for inventorying and reconciliation. To help reach these goals, Slap! integrated Tappit's RFID cashless payment system.
Through the event, Slap! Festival:
Distributed

1,771

cashless wristbands

Processed

16,403

transactions

Loaded an average of

€20

per wristband
About:
Now in its 10th year, Slap! Festival treats guests to food trucks, music, dancing, kids activities, an open-air market and more at the height of summer in Zaragoza, Spain.
Challenges and Objectives:
With so many vendors and things to do across the festival site, Slap! organisers wanted to make the customer experience simple, convenient and seamless while also collecting important data about sales and customer behaviour.
Results:
Speed of service: Without customers and staff having to search for coins or return exact change, service around the festival was drastically increased.
Increased revenue: By increasing the speed of service, Slap! vendors could process more orders than before, increasing their revenue.
Simple inventory tracking: Slap! organisers noted that their staff spent significantly less time inventorying stock as it was all tracked in one simple system.
Convenience for customers: Customers were able to easily go from the pool to the bar without having to worry about bringing their wallet.