Unlock the Power of
Tappit Insights
Build your own digital data strategy to fully understand your valuable customers - who bought what, where and when, and then easily action these insights to drive extra revenues and customer engagement.

Lean into a full 360 view of every fan and their individual profiles. Our platform connects purchases to the exact fan so you can leverage the data to offer targeted and personalised incentives, rewards and discounts. Whether you want to use that data to target a customer to increase their dwell time, upsell to a premium product or attend a new event at your venue we give you the tools.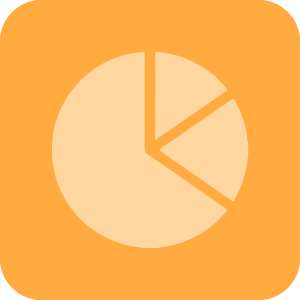 Clients get access to Tappit Insights, a next generation business intelligence dashboard where they can access easy-to-use, actionable data and insights.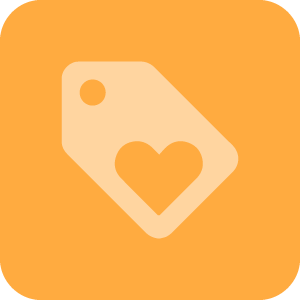 Clients get unprecedented access to every fan, whether they're a first-time visitor or a dedicated supporter.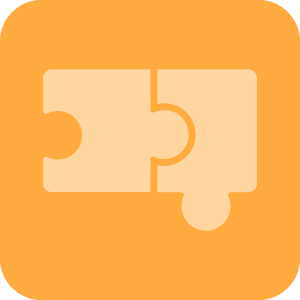 We present our data in a way that's easy for anyone to understand. Action the data to run offers and incentives before, during and after an event to personalise offers based on fan behaviour.
You'll be able to measure campaign success live and offer unparalleled data and insights to sponsors to drive revenues.
Unprecedented Access to Every Customer
We allow you to identify and understand the behaviour of every one of your customers - no matter where they bought their tickets and what event they attended. This allows you to offer personalised incentives to the customer based on their actual prefernces to increase attendance, drive incremental revenues and improve the customer experience.
From individual customer profiles to segmented macro data, the insights bring you closer to your customers, enhances their experiences, boosts your bottom line and helps you make informed decisions.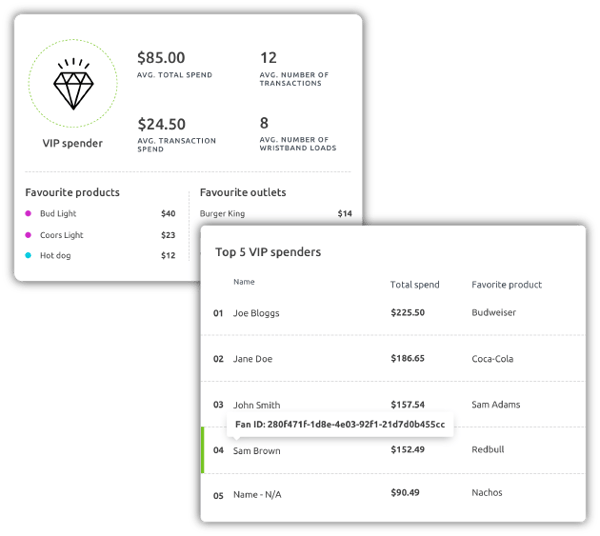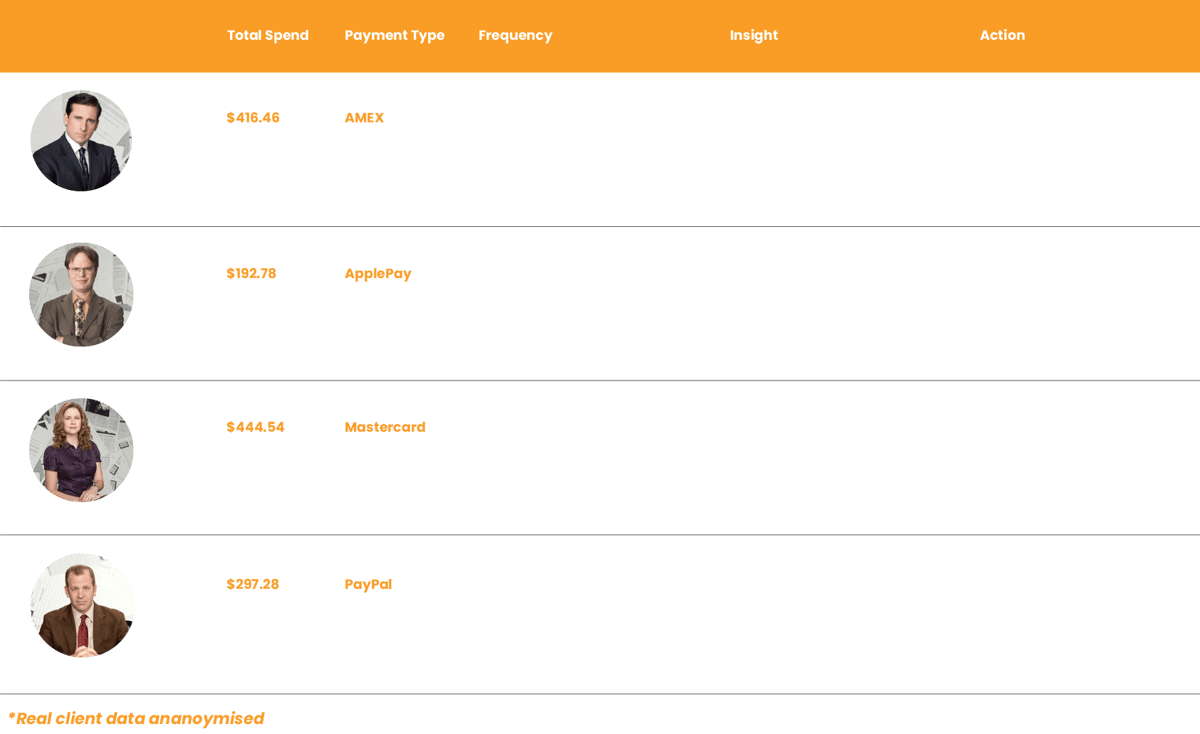 Recognise and Reward Loyal Customers
Member benefits allow special offers and discounts for loyalty based on their particular user segment. Loaded value can be purchased with a ticket giving the guest the opportunity to add the cost of food, drinks or merchandise at the same time and stored within the wallet.
Auctions and sweepstakes give customers the opportunity to win prizes, product offers, discounts, experiential giveaways and community incentives. Points, leaderboards and awarded badge options enable guests to earn points for a variety of activities.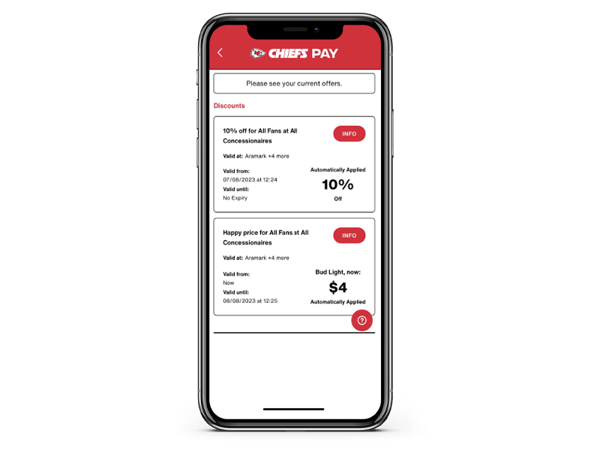 Leverage and Add Value to Sponsors
Use this rich data insight to add significant added value to existing sponsors or to enable you to acquire valuable new partners.
Run fully tracked campaigns specifically for sponsors to drive direct ROI for them, as well as the ability to offer them free real estate within the mobile wallet or on digital payment consumables such as wristbands.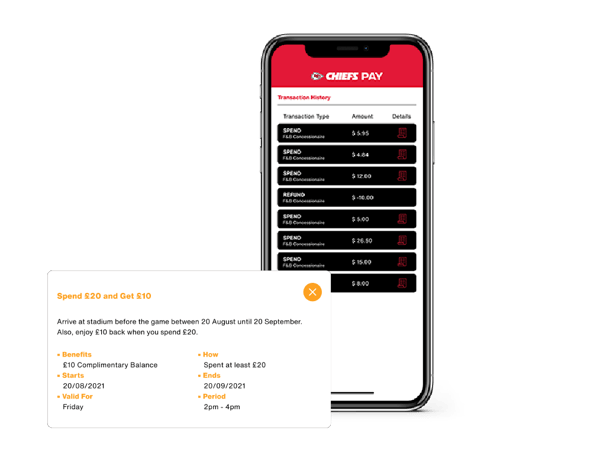 "We have been delighted with the ease at which Tappit integrated the mobile pay SDK into our existing app. Even better, Chiefs Pay has provided a great user experience for our fans, and is really simple for our staff to operate. The pandemic has brought new challenges for the fan experience at Arrowhead Stadium and the data and insights we have been able to access from Tappit are helping us understand, engage and grow our audience to ensure that 2021 will be an incredible year."


"We've been delighted with the speed and ease with which Tappit implemented Padres Pay. We now have a safer, contactless way for Padres fans to pay. Furthermore, the data and insights available on the Tappit platform allow us to get closer to our fans in a way that simply wasn't possible before. The increase in spend per caps of Padres Pay users has made us excited about the future potential of the solution."

"We love partnering with Tappit. Roundbox's expertise in the Australian & New Zealand market, coupled with their technology and partnership support has meant a really successful and enjoyable working relationship. We are really excited about the coming years and would recommend a reseller agreement with Tappit. It has boosted our potential to generate revenue, enhanced our reputation in the industry and has increased our offer to clients. Plus the team is professional and great fun to work with!"

Discover Tappit's New Loyalty Business
Fan Experience and Data Platform Expand Their Offer and Global Client Base. Tappit, the global payment and data ecosystem for retail, sports, events, stadiums, and venues, today announced a partnership with Skidata, a leading access solution provider.
Talk to
Tappit
What problems

can Tappit help solve for you? Fill out a few details and one of our product experts will be in touch with you shortly!