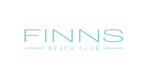 "We've worked with Tappit on several events, and we're very happy with the system. Finns prides itself on giving our guests the experience of a lifetime. By using the RFID system, we gather data to help us make our events even better, and we make it easier for our attendees to immerse themselves in paradise."
Beau Whittington
Finns Chief Operations Officer
Executive Summary:
From glistening pools and world-class restaurants to incredible daily DJs, Finns Beach Club is the ultimate destination for paradise seekers from around the world. For New Year's Eve, the Club goes the extra mile to deliver a memorable experience, featuring some of the best DJs in the business.
By employing the Tappit system, Finns:
Doubled their added revenue stream - a £20,000 increase
Processed 35,106 sales transactions
Identified their peak selling times
Determined their best-selling and lowest-selling menu items
Pinpointed their most popular food and bar outlets
Challenges and Objectives:
New Year's Eve events are notoriously tricky to manage. Everyone is on a mission to have the night of a lifetime. Especially for a venue as sublime as Finns, expectations are sky-high. Queues can be particularly aggravating and missing midnight would be absolutely intolerable. To meet these high expectations, event logistics have to be perfect.
Results:
Decreased cash handling. By using RFID payments, customers could simply tap their wristbands to make a purchase and get back to the music. Staff didn't have to fumble with change, and guests didn't have to worry about theft.


Reduced queues. With reduced transaction times, queues were significantly shorter, allowing Finns to deliver an enhanced customer experience.


Event insights. Tappit Insights allows Finns to dial in their data, including identifying their top-selling items, most popular outlets and peak spending hours. Finns can now use this data to improve future events.