Recent research has shown that 61% of all sports organisations do not use data for their overall strategy. Yet company performance is highly correlated to data maturity and time and time again, data has proven to be crucial to competitive advantage.
The benefits of being a data-driven sports business
According to Mckinsey Global Institute, data-driven organisations are not only 23 times more likely to acquire customers, but they're also six times more likely to retain customers and 19 times more likely to be profitable.
In addition, BARC research surveyed a range of businesses and found that those using big data saw an 8% increase in profit and a 10% reduction in cost. The companies also listed other benefits that had emerged from the transition to monitoring data:
69% Improved strategic decision making

54% Better control of operational processes

52% Improved understanding of their customers
Data mature organisations have the advantage of being able to spot opportunities way in advance, whilst they're still invisible to the human eye. Through leveraging the power of predictive analytics, organisations are able to use their existing data to anticipate what will happen in the future.
Despite the proven link between data maturity and success, there are significant opportunities for sports organisations to leverage their data and leave their competitors behind.
Data maturity modelling
There are many infographics out there to illustrate the different stages that organisations go through before reaching data maturity. Here's a simplified version of an illustration produced by Silicon Valley Data Science.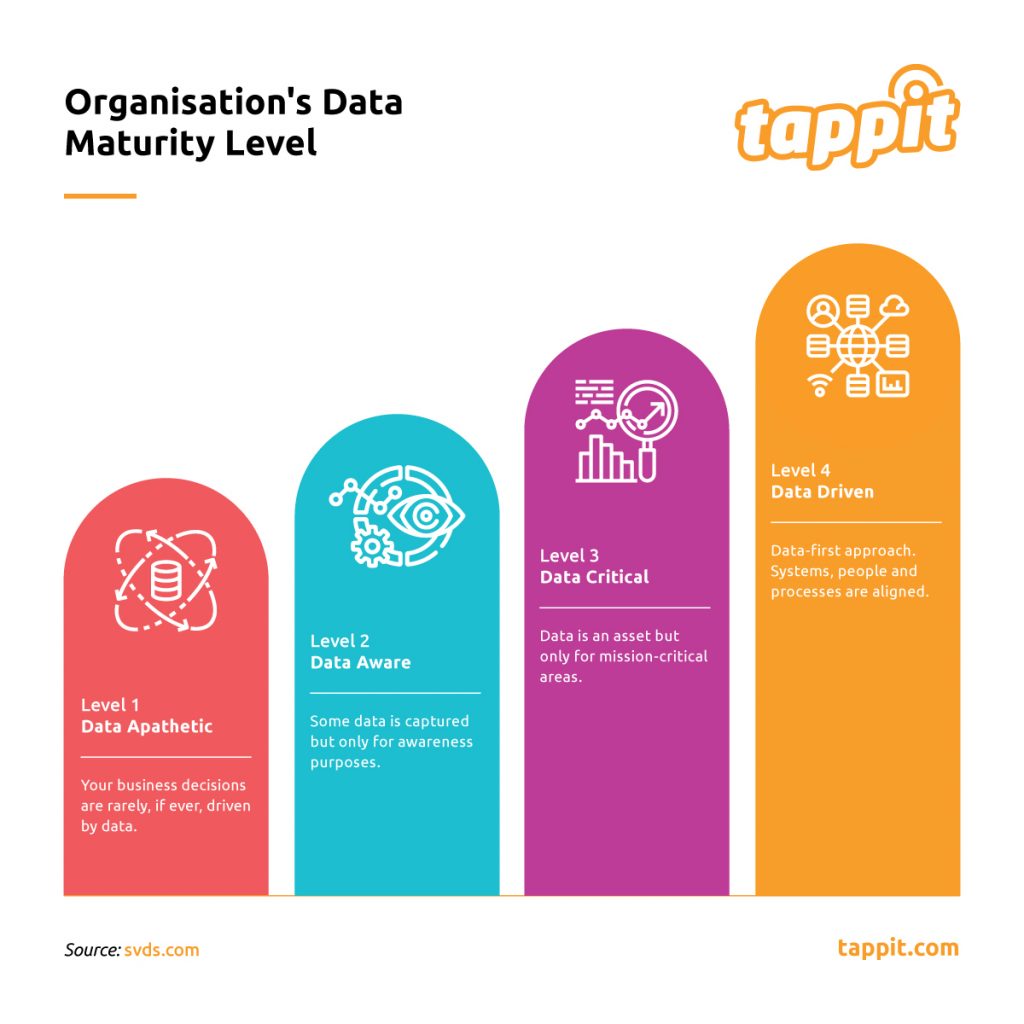 There are four stages for organisations to reach the optimal level of data maturity. At level 4, when an organisation is data driven, all people, systems and processes are aligned to use the data both efficiently and effectively. Business decision making is led by data and insights rather than 'gut feel' and everyone in the organisation is on board from the ground up.
Data maturity in sports organisations
Whilst many organisations have realised they need to collect data and use it effectively in order to succeed, the level of data maturity in the sports world is surprising.
The Data Maturity Model, a research conducted by Bas Schnater and Geoff Wilson, has been in the making for more than 18 months and it has been tested by over fifty clubs and federations from the Premier League, La Liga, MLS, and various national football associations.
The aim of the Model is to provide these federations and all clubs with detailed insight into the data maturity of their organisation.
Research findings
37% of sports organisations have a one-year data strategy.

Only 10% of sports organisations have communicated their data objectives across their entire organisation, with 25% communicating it only to senior staff.

32% of organisations never review their data objectives.

29% of sports organisations do not use any form of segmentation within email campaigns.
"It is interesting to see that most organisations have invested in using their fan data to personalise fan experiences, but many basic processes are still lacking. Still, 25% of organisations do not proactively capture fan data."

says Geoff Wilson, Data Maturity Model
Yet even in 2021, there are huge pieces of information missing from the game day experience. Organisations understand who has bought their tickets – but not who actually attends the games. Even more importantly, there are big gaps around what they buy, when they buy, their brand preferences and habits.
With the US sports sponsorship market alone predicted to be worth $20 billion dollars in 2022, it is incredible that organisations do not understand their fans and how to maximise this revenue through data. Yet fan behaviour in-stadium is still a huge data black hole.
Plug the data gap
Fortunately there are now ways to improve this situation. Choosing a closed-loop cashless payment solution – one that enables venues and teams to connect fans to purchases and understand their behaviour in a stadium or at an event – makes that data capture and analysis a reality.
Gaining a complete view of each and every fan gives organisations opportunities to connect with their consumers, increase revenue through receiving actionable insights in real-time and give sponsors genuine connection with their consumers. The opportunity for those who take advantage of this data is significant. The recent work that Tappit has undertaken with the Jacksonville Jaguars has demonstrated an increase in per cap spend of 60%.
Effective data collection isn't the only issue here for sports organisations though.
Connect all data points
It's not only crucial to collect fan data, but also to have a single point of truth which means connecting all your data source partners too.
Only 51% of organisations collect it in a centralised place. It means that organisations still work with a lot of separate data sources which limits marketing as well as a general understanding of the fan." Geoff Wilson, Data Maturity Model
With Tappit, this is much easier than you might think. Our cashless solutions are white label. We work with all the major POS systems, ticketing providers, CRM systems, loyalty schemes and more. We connect all your data points and all the data is pulled into Tappit insights – our analytics suite – to give you that crucial 360 view of every single one of your fans.
Summary
Data-driven, and consequently, insight-driven businesses consistently outperform their peers. By tracking consumer interaction and gaining an in-depth understanding of fan behaviours, sporting organisations can improve their customer experience and overall satisfaction with huge benefits for lifetime value and brand loyalty. That's why data maturity is invaluable.
Technology continues to move at a rapid pace. Delaying adoption of solutions that can enhance data maturity can rapidly change a market leader into a market failure.