It is clear that the Coronavirus is one of the biggest challenges the world has faced. The human impact cannot be underestimated. With updates coming thick and fast about the difficult decisions that event organisers are having to make across the world – there is one thing that organisers need to remember. Engaging your fans and keeping them close to your brand will help navigate these unprecedented times.
For everyone who is currently considering how to minimise the impact of COVID-19 on their business, don't forget about engagement. Understanding your fan, their behaviours, purchasing patterns and likes and dislikes will keep your customers loyal. Fan loyalty is a vital part of sustainability – even if your event is being affected by the virus.
This model, created by Fowler & Wilson clearly articulates how fan engagement can be maximised. The most important fact is that the event isn't specifically at the centre of the model. At the centre is the data that you have about your fan. That is the most precious commodity you can possess. Data ensures sustainability of your business and the opportunity to generate revenue across the year.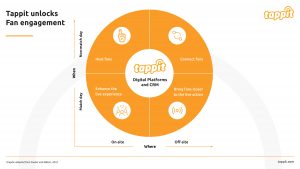 Only 25% of this pie chart focuses on the actual event. The real value is in the centre through the data and the insights that are unlocked – and that's where Tappit can help.
By going cashless with our system (ideally linking it with your ticketing and CRM), event organisers and venue owners can start building up a very clear single customer view. Unlike using contactless payment systems, you can understand what people buy and what time they purchase items, when they arrive at venues and even when they arrive at your car parks. With this knowledge your messaging can become incredibly tailored, and the great news is that tailored works!
From our sports report – 72% of fans want to receive personalised marketing content from their team. That is an incredible statistic and needs to be capitalised on by sports and entertainment organisations, especially when large scale events are at risk. Moreover, customers with an emotional relationship with a brand have a 306% higher lifetime value and will recommend the company at a rate of 71%, rather than the average rate of 45%.
Our team of event experts and fans always work closely with clients to find ways to maximise fan engagement and sustainability. Here are some things we believe you should consider in this current climate.
There are 3 ways to work with your data:
1.If you believe fans may be concerned about attending but the event is going ahead
Reward and encourage them to come to the event. Discounts, special offers, additional tickets and incentives to spend more and stay longer.
2. If you are being asked to keep events only open to local fans
Identify your local fans, offering them more tickets, offers to increase sales of food and beverage or even find ways to keep them at the venue for longer, from entertainment to watching other matches on big screens.
3.If you are having to cancel or postpone
Get in touch with your fans and offer them rewards, competitions, promotions that speak directly to them. You know what they buy, when they buy it and their event behaviours – so offer them something that matters to them.
Convinced yet that you need the data and insights to make your business sustainable? Want to understand more about how Tappit can help? Request a call back today.