In the ever-evolving landscape of sports, industry professionals at all levels need to be aware of the changing needs and desires of fans. Everyone within a club is responsible for fan experience and brand perception, from marketers and technology professionals through to commercial teams and customer service personnel.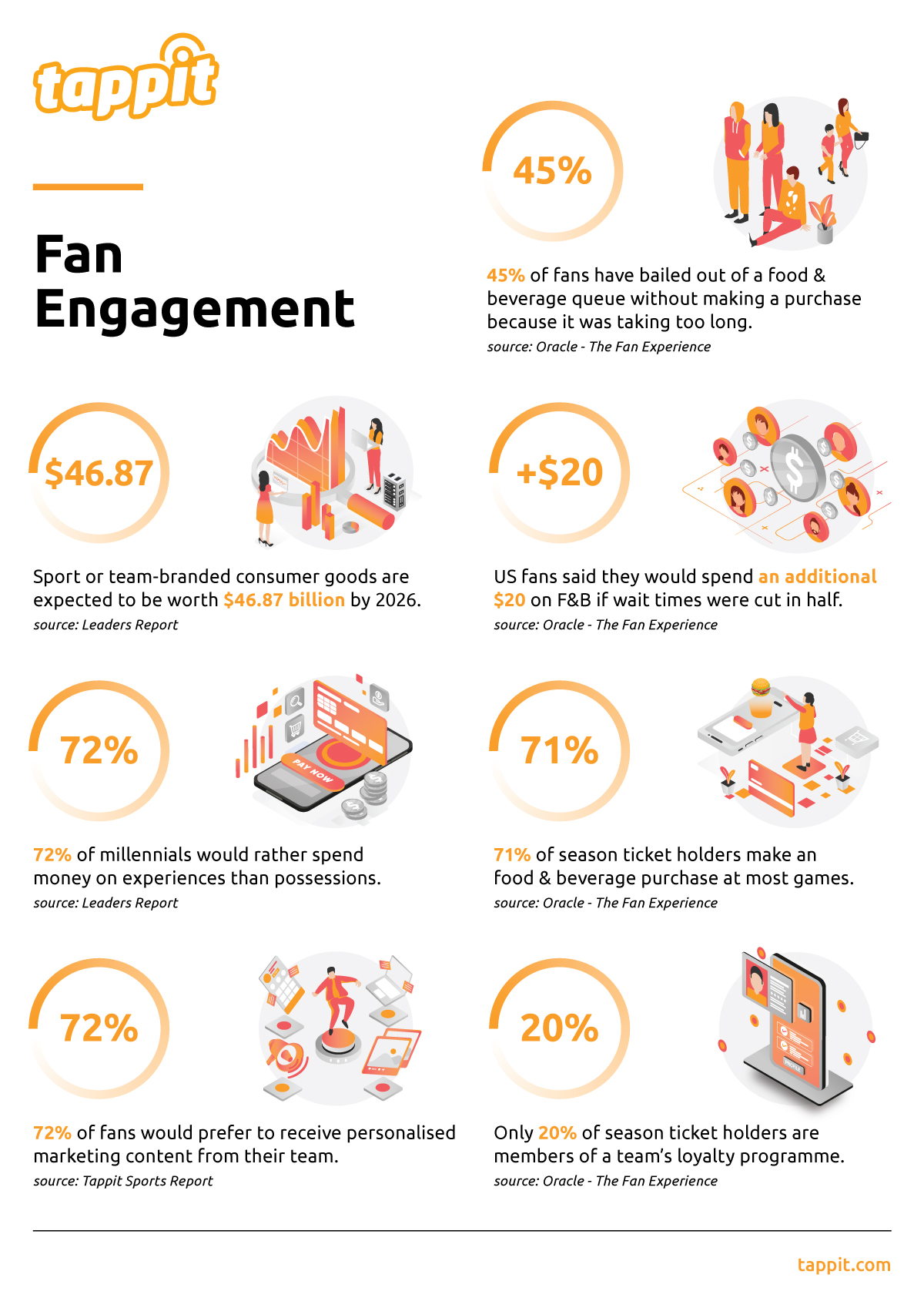 Download the infographic: Tappit Fan Engagement Infographic
Despite the numerous new trends and fancy tech advances that have taken over the industry in recent years, one common goal prevails: increasing fan loyalty. It may be obvious that a fan with a higher affinity for a team will likely spend more both inside and outside the stadium, but how can organisations move their customers up the ladder from casual fans to super fanatics?
The key is a 360-degree, holistic approach to fan engagement.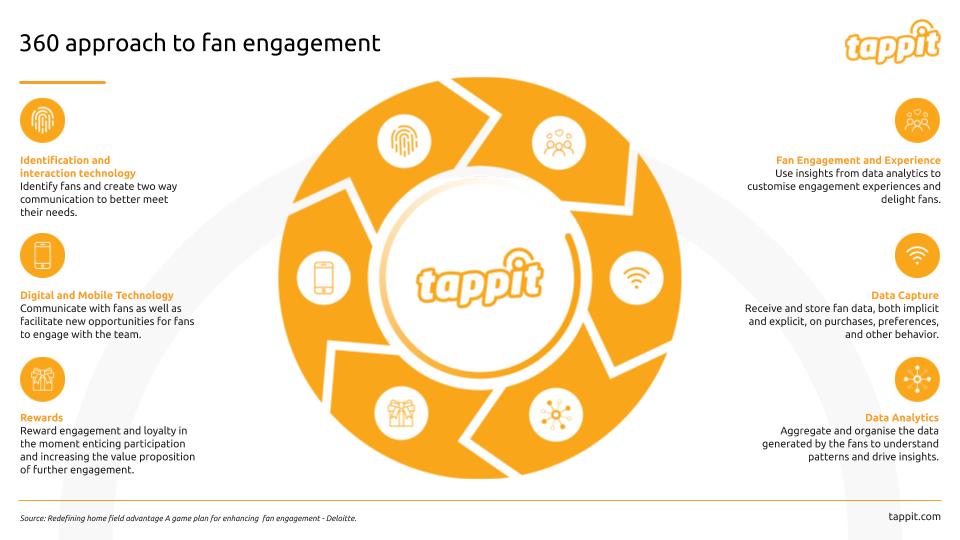 Before the game
First, let's take a step back and look at sports fans as a consumer group. According to Gensler's Brand Engagement Survey, sports brands boast the highest engagement rankings of any product or service category, including cars, technology, clothing or food.1 It shouldn't be surprising, then, that only 2% of British football fans will switch from one team to another in their lifetime.2
While loyal, your fans should not be taken for granted. The sports industry is big business – and it brings in big money. Leaders in Sport reported, "The global licensed sports merchandise market, which is defined as consumer goods branded with specific sports or a specific team, is expected to be worth $46.87 billion by 2026".3 With so much money to spend even before they enter your gates, wise sports professionals ought to target their consumers with the offers they want. Regardless of how much data you collect from your fans (we'll get into that more later), you need to be breaking down your audience to give them the offers and messages they actually want to see.
Take, for example, millennials. The "holy grail" demographic to many a marketer, 72% of millennials would rather spend money on experiences than possessions.3 Meanwhile, baby boomers tend to be more committed to their team and are the consumer segment that spends the most, but they often feel that advertisers have forgotten about them completely.
These two groups should be targeted with very different messages. A general rule of thumb: if you're targeting everyone, you might not be hitting anyone. Regardless of age group, personalisation is key – 72% of fans who expressed a preference would prefer to receive personalised marketing content from their team, based on a Tappit survey.
At the stadium
Once your fans are inside the stadium, the focus on experience should kick into overdrive. Numerous studies have concluded that "atmosphere" is the number one reason fans attend a live event, and eliminating potential pain points is an essential step to ensuring the stadium atmosphere meets customer expectations. It goes without saying that long queues are the most common gripe amongst sports fans. In fact, 45% of fans have bailed out of a food and beverage queue without making a purchase because it was taking too long.4 Pair this point with the fact that US fans said they would spend an additional $20 on F&B if wait times were cut in half, and it's clear that stadia are missing out on big money through slow service and inefficient staffing during peak periods.
Beyond operational efficiencies, sporting professionals ought to consider how they're engaging one of their most fruitful audiences inside of the stadium – season ticket holders. According to Oracle's Fan Experience Report, 71% of season ticket holders make an F&B purchase at most games. Despite frequent purchases and consistent attendance, only 20% are reportedly members of a team's loyalty programme. Certainly, this disconnect represents a vast engagement chasm between clubs and their fans. Perhaps it's worth evaluating whether or not fans feel the rewards from loyalty programmes resonate with them enough to inspire action.
One shining example of an effective loyalty scheme is Red Sox Rewards, the Boston Red Sox programme designed to engage season ticket holders not only through purchases but also through active engagement with the Red Sox brand. In this programme, season ticket holders can track the number of games they attend or watch on TV, the number of purchases they make in the ballpark and contest and promotion participation, among other key engagement metrics. As points accrue, fans have the opportunity to trade points in for merchandise, but more excitingly, they can also enter to win exclusive prizes like a private dinner with a player. These high-value prizes clearly incentivised fans to join: 66% of season ticket holders modified their behaviour to earn points, according to Red Sox research.5
Season ticket holder engagement doesn't always have to take shape as big, flashy rewards, either. When properly integrated with your CRM system, data can provide increased opportunities for smaller, low-cost touchpoints. For example, sending a personalised push notification through a fan app upon arrival can make a season ticket holder feel more valued by their club. Further, personalised offers can be sold during the game – if a particular customer has purchased a hot dog multiple times throughout the season, why not send them a push notification with a discount on a hot dog meal deal as a thank you for their frequent attendance (and as a means to upsell for future fixtures)?
After the game
It's all well and good to get fans in your seats, but customer engagement shouldn't stop after the final whistle is blown. Smart marketers understand the benefit of drawing out experiences – engaging, personalised content is one way to accomplish this.
Let's take our focus off the pitch for a moment and think about another sports industry player: ski resorts. Several years ago, Vail Resorts released its cutting-edge app, EpicMix. While skiers can access immediate benefits to using the app on the slopes (including checking lift wait times and snow conditions), the app also compiles the data collected through individual RFID ski passes to provide personalised post-ski reports. Using RFID technology, the app shows skiers how many days they've skied in the season, compares their vertical feet and run times with friends and collects points to be used towards rewards based on activity. Moreover, users can share these results (along with photos from their day) on social media. Not only do these reports give users bragging rights amongst friends, but it also promotes #InstagramEnvy, driving potential uptake amongst the customer's connections. Certainly, stadia can incorporate similar personalisation methods to engage their fans in a deeper and longer-lasting way.
Finally, the importance of community building should not be understated when it comes to engaging fans on a more personal level. The US Tennis Association has excelled at this point, building a massive set of data covering event registrations and results, search history and more to create profiles for individual tennis players and fans. Based on this data, USTA analyses participation patterns and creates communications plans to invite individuals to events and competitions best suited for them individually, thereby enhancing their intrinsic connection with the USTA.6
Sporting organisations should be proud to serve some of the most loyal and passionate customers across any segment. However, the industry cannot simply rely on that loyalty to drive ticket sales, renewals and customer satisfaction. Instead, industry professionals at all levels should create end-to-end engagement plans to ensure their fans feel like they are valued members of their community.