Embedding payments and other financial products into non-financial apps is one of the most exciting trends in fintech right now, with more and more organisations successfully launching their own branded mobile wallets.

Apple Pay, Samsung Pay, Starbucks Rewards, Walmart Pay and Amazon Pay….these are just some examples of mobile wallets that have been hugely successful in recent years.

It's hard to imagine that it was only in 2011 when the first major tech company launched a mobile wallet. That company was of course Google with the Google Wallet.

Today, according to moneytransfers.com: "The top 10 mobile payment apps have 3.37 billion users combined."

Countries such as China, who didn't readily adopt debit card technology back in the early noughties, have leapfrogged from using cash straight to mobile payments, missing out on debit cards and credit cards altogether. In other parts of the world, such as Europe, where debit and credit cards are the preferred contactless payment method, mobile payments are making significant inroads and adoption rates are growing across all age groups.

The global pandemic has caused seismic shifts in the payment industry. The willingness of consumers to adopt mobile payments during Covid was driven by the need to go contactless initially, but has since been retained due to the convenience and frictionless experience that mobile wallets offer.

With high adoption rates of mobile wallets, now is the ideal time to assess whether your business could benefit from investing in a branded mobile wallet.

After all, implementing a branded mobile wallet at your event or venue can offer significant opportunities for your business. Operational efficiencies are given a boost, lines are reduced, revenue increases.

Crucially, an e-wallet allows you to collect first party transaction data on every single one of your guests. This data can be analysed for deeper insights into the buying behaviour of individuals. These resulting insights can be used to drive revenue, build loyalty and cut costs in all kinds of ways. Furthermore, by combining this data with a loyalty and rewards programme, you can increase customer engagement and brand loyalty.

Sounds good? Then read on.

This guide serves as a useful introduction to mobile wallets. We'll help you understand the landscape, cut through the jargon and assess whether a mobile wallet could be the right option for your business.

Using this guide, you'll get the complete overview on mobile wallets. We'll cover:
The mobile wallet space is fast paced, innovative and rapidly evolving. As a result, there's some confusion around terms and technology. Digital wallet, mobile wallet, e-wallet, wallet as a service (WaaS)...there are many terms to describe this extremely popular development in the fintech space.
1. So what is a mobile wallet and does it differ from a digital wallet?
Digital wallets
Whilst digital wallets and mobile wallets share many similarities, they have some distinct differences.
A digital wallet is a financial account that stores your payment information (credit card or debit card details) in one place online. When you go to pay for something online, your details are retrieved so you don't have to enter your details every time. You can use a digital wallet to store funds, make transactions, make peer to peer payments and more.
A digital wallet can be used for digital transactions on any device - such as a desktop, laptop or mobile device. While they can be used to make online purchases, a digital wallet doesn't allow for in-person contactless purchases.
Mobile wallets
A mobile wallet is a subset of a digital wallet. Think of a mobile wallet as the 'child' and a digital wallet 'the parent'. A mobile wallet is an electronic wallet that allows you to save your credit or debit card information in an app on your mobile device.
The mobile wallet is then accessed on a smartphone and used to make in person payments either using near-field communications (NFC) or QR code technology. Some examples of popular mobile wallets are Google Pay, Apple Pay and Samsung Pay. Here's a useful definition from Adyen.
"'Digital wallet' is a blanket term that includes mobile wallets. A digital wallet can be installed on your mobile device, laptop, or desktop computer. But a mobile wallet, like Alipay or WeChat, works only for mobile devices, such as smartphones and smartwatches."
How a mobile wallet works
Customers deposit money into a spending account which is linked to the mobile wallet. To make purchases, the customer holds their mobile phone close to a device and the payment is taken. To a customer, the process is very similar to the experience of using contactless cards.
2. Mobile wallet adoption rates
According to McKinsey, the payments industry experienced "a half decade of change in a few months," a direct result of the global pandemic. 2020 saw cash usage fall steeply to historical lows throughout the world. Cash accounted for just 5.4% of point of sale transaction volume in Canada, 4.5% in Norway and 11.9% in the US.
The payments landscape has changed and today, mobile proximity payments are now mainstream. The global pandemic caused major concerns over using cash due to hygiene concerns. The desire to reduce physical contact saw rapid changes in consumer behaviours. Cash usage plummeted and mobile payments transaction volumes rose sharply. Mobile wallets have acquired cash's share loss at point of sale. Business Insider has forecasted the growth up to 2025:
"US mobile phone users who've made at least one proximity mobile payment in the last 6 months: 22.9% of the population in 2018, up to 43.7% in 2025."
Mobile payments by country
Historically, market penetration of mobile payment technology has varied markedly across the world, with APAC countries leading the way. Today, Southeast Asia is a 'wallet first' region. Digital and mobile wallet payments accounted for over 40% of point of sale payments in the APAC region in 2020. This is forecasted to increase to 47.9% by 2024.
Yet the US and Europe are catching up. In the US, whilst credit cards are likely to remain the dominant payment method at point of sale, mobile wallets are forecasted to account for 15.5% of POS transactions by 2024.
American Banker looked at US point-of-sale payments made using mobile wallets vs. cash. The trend clearly shows that cash usage has slumped whilst mobile wallet usage has jumped from just 6% in 2019 to a forecasted 15.5% of all POS payments in 2024.
Mobile payments by generation
Unsurprisingly, the use of mobile wallets varies across the generations too. Marqeta's '2022 State of consumer Money Movement report' stated that in the UK, 77% of Gen Z prefer mobile payments. They further found that 61% of UK consumers regularly leave their wallets at home and make contactless payments via mobile phone instead. Meanwhile, older consumers are more hesitant to use mobile wallets. In the UK, those aged between 18-24 were more than twice as likely to embrace digital wallets as those aged 51-65.
Similar findings were reported in Payments Source Future of Money Survey November 2020. 61% of millennials were extremely interested in mobile wallets, whilst just 26% of Boomers were.
The future for mobile wallets
Adoption rates are slowing down, however, what we haven't seen is a return to pre-pandemic payment behaviours. Whilst the need to reduce physical contact may have prompted the move to mobile payments, the convenience and frictionless experience ensures consumers keep paying via mobile. Consumer confidence is high for mobile wallets. Marqeta's research shows that 56% of people are happy to leave their wallets behind and leave the house with just their phone.
All indicators are that mobile payments are poised for major growth in the next few years. The post-pandemic growth will be fuelled by providers building out their suite of services to improve customer user experience, tap into new demographics, and boost loyalty.
3. The benefits of mobile wallets
Mobile wallets offer numerous benefits for end users and businesses alike.
For end users:
Safer and more secure
Contactless
Convenient
Less bulk to carry
Frictionless
Access to rewards
For businesses:
Real-time data for valuable insights into customer shopping habits
Mobile wallet loyalty programmes
Frictionless
Security
Take a look at this blog post where we discuss the benefits of mobile wallets for both consumers and businesses in more detail.
Further reading: The benefits of mobile wallets
4. Closed, semi-closed and open wallets: know the key differences
When considering whether to implement a mobile pay solution into your business it's wise to first understand the landscape. There are a number of different types of mobile wallets. Let's take a look at three of the most popular types:
Closed wallet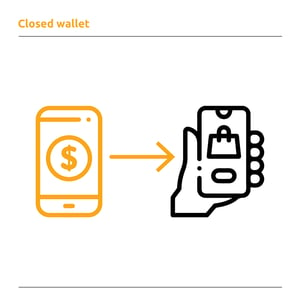 Tappit's Mobile Pay solution is an example of a closed wallet. A closed wallet is tied to just one company or brand and can only be used to make payments with that single company or brand. Some well-known examples of a closed wallet are Amazon Pay, Walmart Pay and the Starbucks App.
Tappit's closed mobile wallet is white-label. This means we embed our mobile wallet into a customer's existing app through app's design, UX and branding. As a result, the end user views the wallet and the mobile app as one and the same. By using a white-label mobile wallet, our customers avoid having to build their own wallet tech from scratch.
Closed wallets provide businesses with rich customer data about customer preferences and behaviour. This data can then be used to tailor communications, offer targeted special offers and incentives, personalise the customer journey and more.
Semi-closed wallet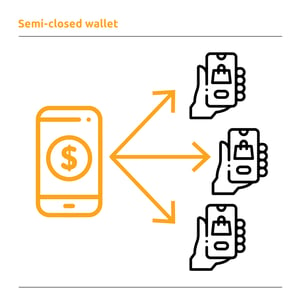 These types of wallets can be used to pay for goods and services at a selection of offline retailers and online e-commerce websites that partner with the wallet provider.
They often have features beyond payments alone. For example, they can be used for peer to peer payments or pay bills. Stripe and Square are both examples of semi-closed wallets.
Open wallet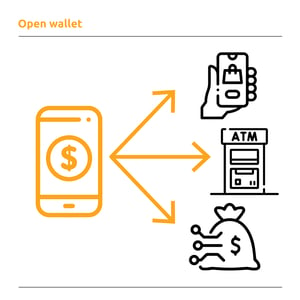 Similar to a debit card, open wallets are issued by a bank or financial institution. They can be used anywhere to make purchases that accept your regular debit or credit card.
Open wallets can also provide other banking operations including ATM withdrawals. PayPal is a stand out example of an open wallet. Other open wallets include Google Pay, Apple Pay and Samsung Pay.
Which type of wallet is best for my business?
Closed, semi-closed and open wallets all share many benefits. Implementing any type of wallet will ensure your event or venue has shorter, faster moving lines. End users will have a convenient, more secure payment method and they can leave their wallets at home.
There are two factors that give closed wallets the edge over open wallets but the decision really rests on how much your business values customer data and the opportunities posed by loyalty and reward programmes.
Data & analytics
Closed wallets give your business access to rich customer data and insights. And when leveraged in a sophisticated data platform, those insights can be used to improve operations, drive revenue, loyalty and more.
Customer loyalty
Similarly, closed wallets offer the opportunity to embed loyalty and reward programmes directly into the wallet. This is next-generation loyalty and rewards and will supercharge your mobile marketing efforts.
These differentiators give closed wallets a significant advantage over open wallets.
Further reading: Closed wallets vs. open wallets - which is best for my business?

Taking the pro sports industry as a use case, we take a deep dive and compare closed wallets to open wallets.
5. Closed mobile wallets - the success stories
Starbucks app, Walmart Pay, Amazon Pay - these are all examples of hugely successful mobile wallets that have delivered for their respective brands.
The Starbucks app is a great example of a successful closed mobile wallet. Until recently, the app had the most mobile payment users in the US. It's now second only to Apple Pay. Now that's some feat when you consider Apple Pay is an open wallet - a widely accepted payment method. Conversely Starbucks app is a closed wallet so it's only accepted as a payment method at Starbucks.
So how have they achieved this success? And what can businesses learn from them?
Further reading: Starbucks - an example of how to slay with mobile pay.
6. How to drive customer acquisition, retention and engagement with a mobile wallet
Our online and offline worlds are converging. Insiders refer to this blending of the physical and digital as "phygital". Mobile wallets are the ideal vehicle to blend digital experiences with the real world. Having a presence in both worlds in a timely, personalised way helps brands stay front and centre of customers' minds and can aid new customer acquisition efforts.
Acquire new customers
Sports teams, for example, who are looking to entice casual visitors to their stadiums more frequently can use the payment data to segment their audience according to the frequency of visits. Targeted incentives or promotions can then be sent at the right time to entice their casual fans back to the stadium.
Perhaps you've launched a sports fan app for your business, but app downloads are much lower than expected. Or maybe fans simply aren't engaging with your app as much as expected. Adding a mobile wallet embedded into your app can be an excellent tool to drive app adoption rates, customer engagement and loyalty to your business.
Customer retention and engagement
Mobile wallets provide cross and upsell opportunities. Send timely promotions to the right segments so you can incentivise specific behaviours. If you want to encourage fans to arrive earlier, stay longer or simply make more purchases, a mobile wallet can enable you to do this and more.
For example, imagine a guest - Josh, we'll call him - has come to your stadium to watch the game. Thanks to the data you collect on Josh via the mobile wallet, you know he always buys a Budweiser and burger thirty minutes before the game. How about upselling to Josh? You could offer a timely discount on buying additional beers or fries. Mobile wallets offer next-level omnichannel customer engagement, which will delight your customer base.
Branded mobile wallets are hugely beneficial from a loyalty standpoint. It's easy to implement a loyalty programme and offer targeted rewards to your loyal customer base with a mobile wallet which further increases brand loyalty.
Unlock new revenue streams
Sponsorship sales are an essential part of any event. Successful sponsorship deals are a win-win - you get the required financial support and the sponsor receives the required brand awareness.
A mobile wallet can create new opportunities for your sponsors to directly engage with your audience. Sponsors can gain access to your fans' wallets and run their own incentive programmes.
How to ensure an effective launch of your mobile wallet
To ensure high adoption and usage rates of your mobile wallet, it's important to support the launch with an effective communications plan. Once the mobile wallet is launched, your promotional plan can pivot to include rewards and incentives, which build loyalty for your early adopters and further entice those who haven't yet signed up. Finally, delight your most loyal customers with unique experiences.
In the following blog post, we outline a three pillar strategy to ensuring a successful mobile wallet launch.
Further reading: How to drive high adoption rates for your mobile wallet
7. Mobile wallets and loyalty programmes - The perfect match
Every brand understands the value of loyal repeat customers, but many don't know how to properly incentivise and effectively reward people for their brand loyalty. After all, building loyalty isn't just about gaining new customers; it's about providing an unforgettable live experience for your existing guests which will keep them wanting for more.
Statistics vary across different industries, but research indicates that customer acquisition costs a lot more than retention. In fact, it could cost up to 5 times more to acquire a new customer than to keep an existing one.
Loyalty programs have been used by brands for many years now to provide coupons, discounts, freebies, and other rewards to customers. Typically customers will sign up for a loyalty program and receive a card to be swiped at point of sale along with purchases in order to receive rewards and benefits. This allows brands to glean helpful information about their customer's shopping and spending habits which can be used to improve business operations, marketing activity and so on.
The problems with traditional loyalty cards
There are a few key issues with traditional loyalty programs, the main one being that many customers don't bother to use them once they've signed up. Cards are lost, forgotten about, or live in a physical wallet that doesn't get taken to the shops anymore! As a result, businesses are unable to collect valuable data.
It's these drawbacks to traditional loyalty programs that have seen merchants seeking new alternative ways to deliver rewards. Enter loyalty programs accessed via a mobile wallet.
Embed your loyalty program in a mobile wallet
Mobile wallets are the perfect vehicle for delivering loyalty programs. They overcome some of the major hurdles of traditional programmes.
Physical cards aren't required, the customer will always have their phone on their person (who leaves the house without their phone these days!) and they're more likely to remember they've signed up in the first place. So how keen are customers to use loyalty programs delivered on their smartphones rather than a physical card?
Here's some statistics:
87% of Americans are willing to have various details of their activity tracked in exchange for more personalised rewards and brand experiences. (

Bond

)

79% of Americans say they are more likely to join a rewards program that doesn't require them to carry a physical card. (

Wilbur

)
Over 57% of members
prefer to interact with their loyalty program on mobile devices.
By embedding loyalty and reward programmes into an app, the user journey is frictionless and effortless.
Tappit's loyalty and benefits module
Tappit's white-label mobile wallet addresses the adoption challenges faced by some mobile wallets with the integration of its loyalty program as an incentive to propel mobile payments.
Features
Personalised recommendations based on previous purchase history

Promotional incentives delivered straight to the users' wallet

% discounts to groups of attendees like season ticket holders

Gift card integration

Complimentary balances and giveaway tokens
These features can be used to encourage user behaviour. For example:
Drive adoption of your wallet

Increase average transaction value

Encourage more transactions

Promote your sponsor's products
The bottom line is that as our everyday lives have become increasingly digitised and automated, mobile wallets and loyalty programs have become more relevant for marketers and the consumers they're trying to reach.
Further reading: Spotlight on Automated Rewards and Incentive
8. Choosing the right mobile wallet provider
Most businesses, particularly in the live events sector, don't have the in-house resources to develop their own wallet. This isn't an issue if you choose to partner with a white-label mobile wallet provider. White-label offers a pre-built wallet that can be branded with your company branding and fits seamlessly within your existing app. This removes the need for any development on your side.
Sounds simple enough but there is a catch - with so many wallet providers to choose from these days, how do you pick the right one?
To build a robust and flexible mobile wallet, you need to select the right technology partner. You need a partner that has the skills and experience developing mobile wallets and is flexible and forward-thinking enough to keep up with the changing needs of customers in an ever-evolving digital landscape.
If you know what to look for in a potential supplier and how to evaluate their offering, you're on the way to making the right decision. In the blog post below, we've put together a suggested criteria to use when evaluating mobile wallet providers.
Further reading: Choosing the right mobile wallet provider: Factors to consider
Summary
If you're considering adding a mobile wallet to your app and want to deepen your knowledge around mobile payments, then we'd recommend you read this guide. Understand the terminology in this fintech space, the different types of mobile wallets and the benefits and drawbacks of each.
Every event or venue is different and each has its own unique set of circumstances. We haven't published this guide to replace conversations - we are here to help! So, if you'd like to know more about how implementing a mobile wallet could supercharge your app, or want to understand how other businesses in your industry are benefitting from this technology then please get in touch.