A male grizzly bear can weigh up to 900 lbs… Which is still less than the average amount of trash a person produces in a single year. Yes, we produce about 1,300 lbs of trash every single year, and the estimate for recycling is only about 700 lbs - about the size of a female grizzly bear.
When you put how much we produce into size comparisons, you're taken back a little bit.
The average family is 3 persons, which means in most households, you're looking at potentially 3,900 lbs of trash.
We're going to save you the math solving here - 3,900 lbs of trash is just a little under 2 tons. So the average family produces a little under 2 tons per year of trash.
A large music festival with roughly 250,000 attendees over two weekends generates an average of 106 tons of trash… per day. We loved EDM.com's reference to size, "...which is greater than either the total weight of the Space Shuttle Endeavor plus its full payload, or a fully-loaded Boeing 757 and its 300 passengers."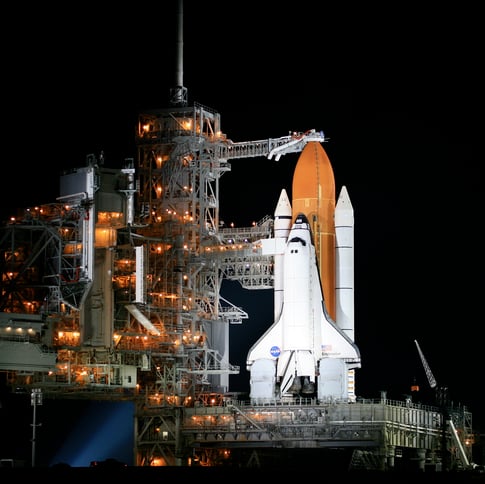 The Industry
It's clear the environment is suffering and we're not doing enough to change it, but by making yourself aware of how the industry is growing, you can better prepare yourself and your event to be more environmentally cautious. Despite the drop in live event attendance in 2020 due to COVID-19, the US Annualized Market Size Growth from 2018–2023 is 9.1%, according to IBIS World. Additionally, in 2023, the live event attendance is expected to rise about 10.9% compared to previous years. Based on this data, we can conclude that live events will continue to keep growing, and nothing can seem to stop them - not that we would want them to.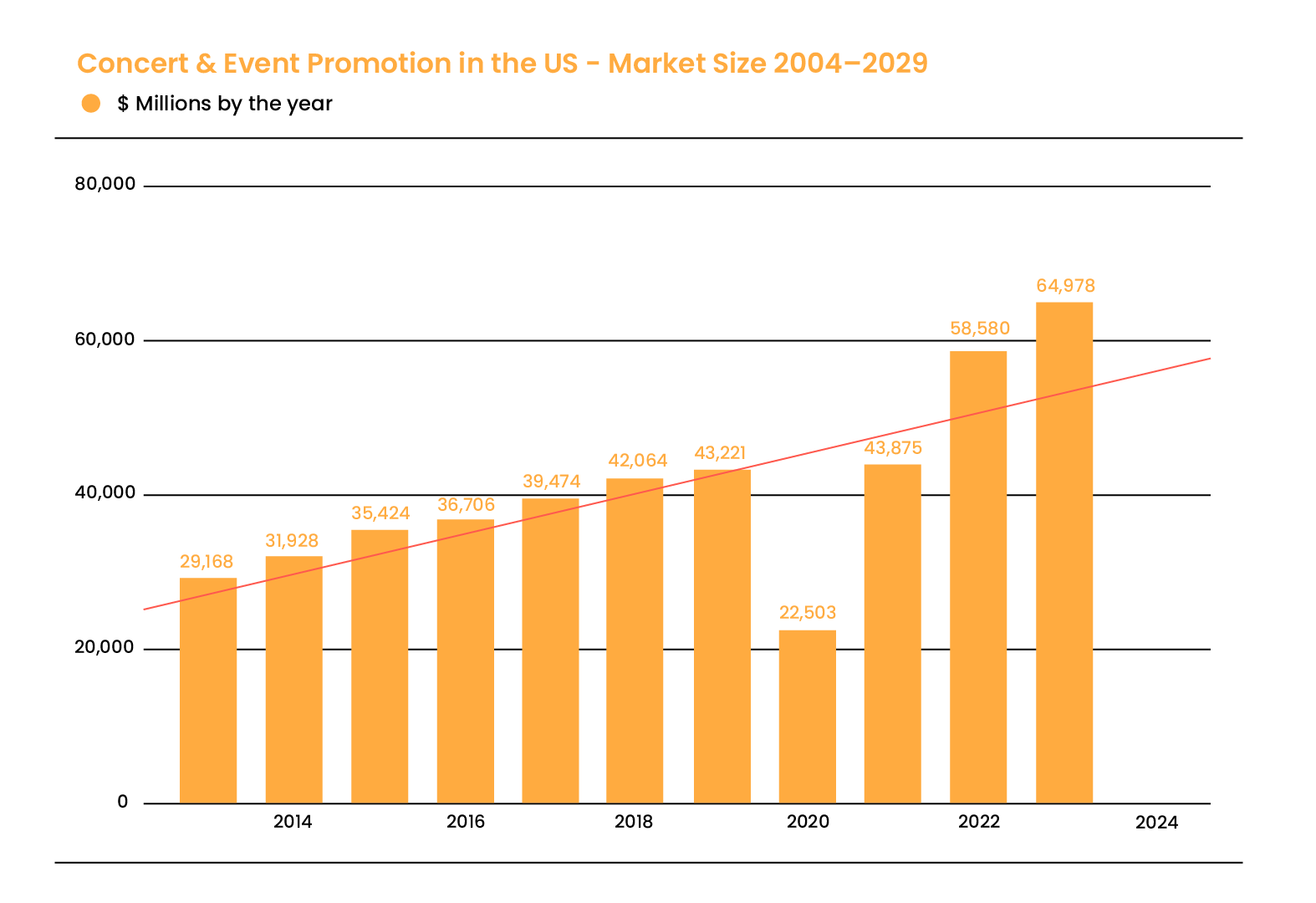 Live events are consistently growing and we're finding ourselves faced with a dilemma: what is the most environmentally friendly way to accommodate the growth in live events?
The obvious ways range from switching to recycled paper products at concessions to offering recycling throughout the venue or campgrounds. Bonnaroo Music Festival, hosted over four days in Tennessee, offers on site composting services to all its vendors and attendees. The festival managed to turn what would have been 180 pounds of waste into compost. Additionally, Coldplay pledged to reduce their tour's emissions by 50% compared to their 2016-17 tour, according to their Sustainability Tour Website. Coldplay even developed a rechargeable battery with BMW that is powered by recycled cooking oil, solar power, and the kinetic energy of their audiences.
Even events outside of the traditional live music set up, have seen changes in the way they're approaching their events to be more environmentally friendly. Forbes discusses how Universal Music Group's Grammy events were set up to be more environmentally conscious "from superb meatless menus and no single use water bottles, to use of live plants that will be donated to a nursery for future use and "scenic stage and audio panel elements on the stage made from specialty Sonostop material."
RFID Technology: Friend or Foe?
While we're taking the steps to make obvious changes, there's one piece of the puzzle we haven't fully understood - and that is RFID technology.
RFID technology has helped improve your access control and decreased your need for paper tickets or paper passes. While we don't fully understand the impact that the RFID chips have in our waste management, we do know the benefits of moving away from paper ticketing has changed the ticketing world for good. RFID wristband options range from open loop to closed loop, or even cloud based, all with options that vary depending on your venue or festival's Wi-Fi accessibility.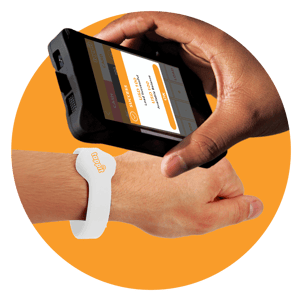 Additionally, outside of the brand representation you receive from having your logo on a wristband that your fan is taking with them, there's an opportunity to receive a sponsorship for the wristband so you can get the cost of the bands partially paid, if not completely paid.
We, as a team of people who care deeply about the environment and how we move forward in this space, continue to keep a close eye on the RFID recycling options. According to "SMART TRASH: Study on RFID tags and the recycling industry," when people are done with wristbands for the festival or concert, most are dropped into the trash can. Even when you consider those who save their wristbands as memorabilia, you have to wonder - where do they eventually go? There are initiatives in place for RFID recycling and many festivals are already finding ways to reuse them where they can, but as we move into the future we like to explore other options. While RFID will remain an integral part of the live music and events industry, we're looking to dive into the mobile option where it fits for clients.
What's the solution? What can we do to change this?
Bank My Cell, who hosts an impressive amount of cell phone data, tells us that there are currently 6.92 billion smartphone users in the world, which is about 86% of the population. So, we believe there is an opportunity to use smartphones and encourage the movement to the mobile wallet space for those who benefit from its capabilities. This not only lessens your carbon footprint in the name of your event, but there's a large number of reasons that going mobile at your event can benefit you - one of them being that as you scale, a mobile wallet easily grows with you at a little to no cost. And with customized offers, in app notifications, and on demand content, you'll see an increase in fan engagement that you've never seen before.
How we can help.
Tappit's Mobile Pay is a safe, fast, and easy way for guests to pay with their phone - whether you have an existing app or not.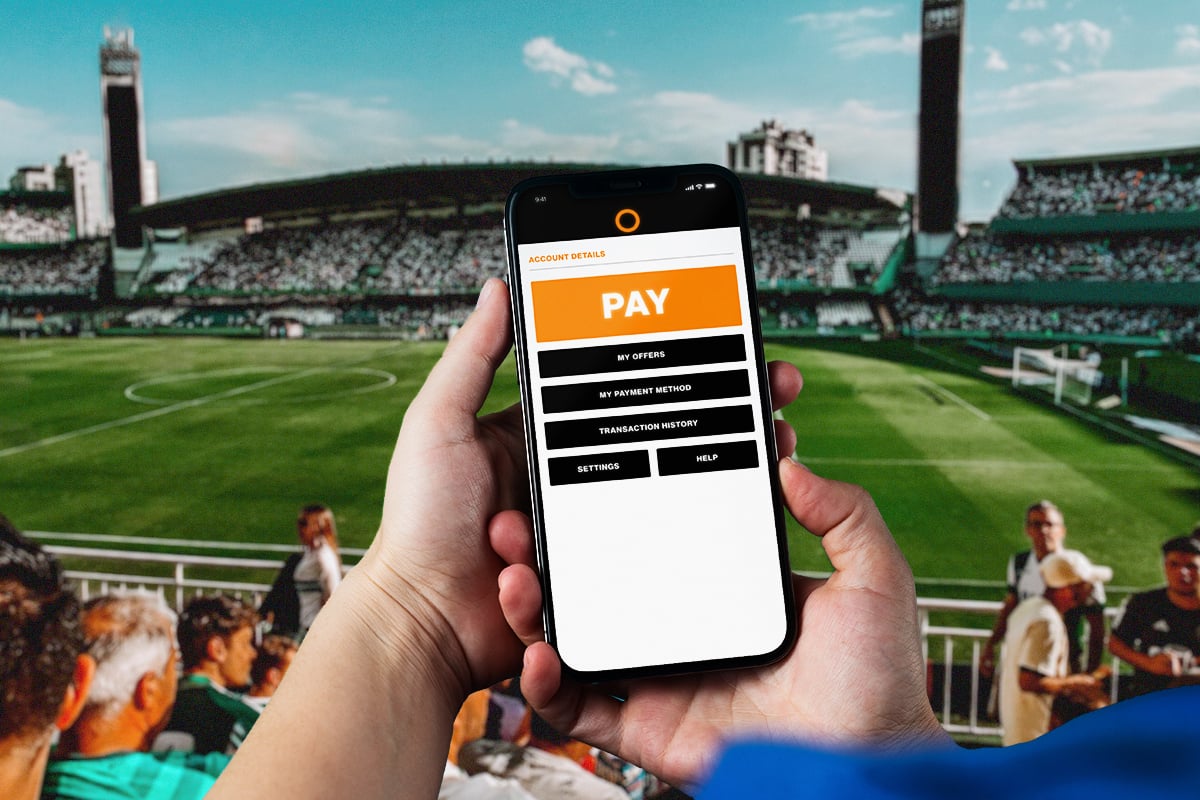 Tappit's Mobile Wallet
Keep your guests and staff as safe as possible in the 'new normal' of COVID-19. Tappit Mobile Pay eliminates the need for cash and cards and minimises human contact. Using QR codes for transactions means that customers can purchase at a longer distance than any other payment method. With fans carrying just a mobile and using secure QR technology, risk of fraud and theft is vastly reduced.
Create seamless spending experiences at your events. Our white label solution maximizes fan engagement by integrating directly inside your app so your fans have everything they need in one place or creating a white label web wallet that works in their browser. Then, reap the rewards by understanding your fans' end-to-end spending behavior.
Easy to implement, easy to use. Tappit Mobile Pay is a simple upgrade to your existing POS system. It requires minimal hardware investment or staff training. QR code technology creates a familiar, intuitive customer experience for all fan demographics.
We don't compete with banking partners. Tappit Mobile Pay can be integrated with your loyalty schemes, reward schemes and your existing venue and financial partners. We provide complementary solutions and can enhance the work of many of your partners.
With a complete customer view, your sponsors can understand who their VIPs are and how best to target them. Choosing our white label solution enables you to create a new sponsorship category and provides your organization with new assets to monetize.
By overseeing your customers' spending journey and retaining the relevant data, you can get access to the most valuable business insights. Understand how to target and engage your attendees whilst increasing your event's profitability at the same time.
Want to explore the mobile wallet on your own? Find out more here.
We're not going to pitch you on mobile wallets entirely here, but if you're invested in the environment and want to learn more about the best mobile wallet solution for you venue, we've already started some of the hard work for you. Check out our blog Mobile Wallets: The Definitive Guide here.
The first step to making a change in the climate starts with us: changing our own actions at festivals. The only way that live events will reduce their carbon footprint is if their attendees and consumers lead the way.