The successful adoption of your mobile wallet will ensure that you derive the most value from your investment.
In start-up circles, you'll quickly hear about the adoption curve. This sociological model is a visual representation of the way different groups of people are willing to try out your product and when. The adoption curve is all about knowing your customer segments and catering to their needs.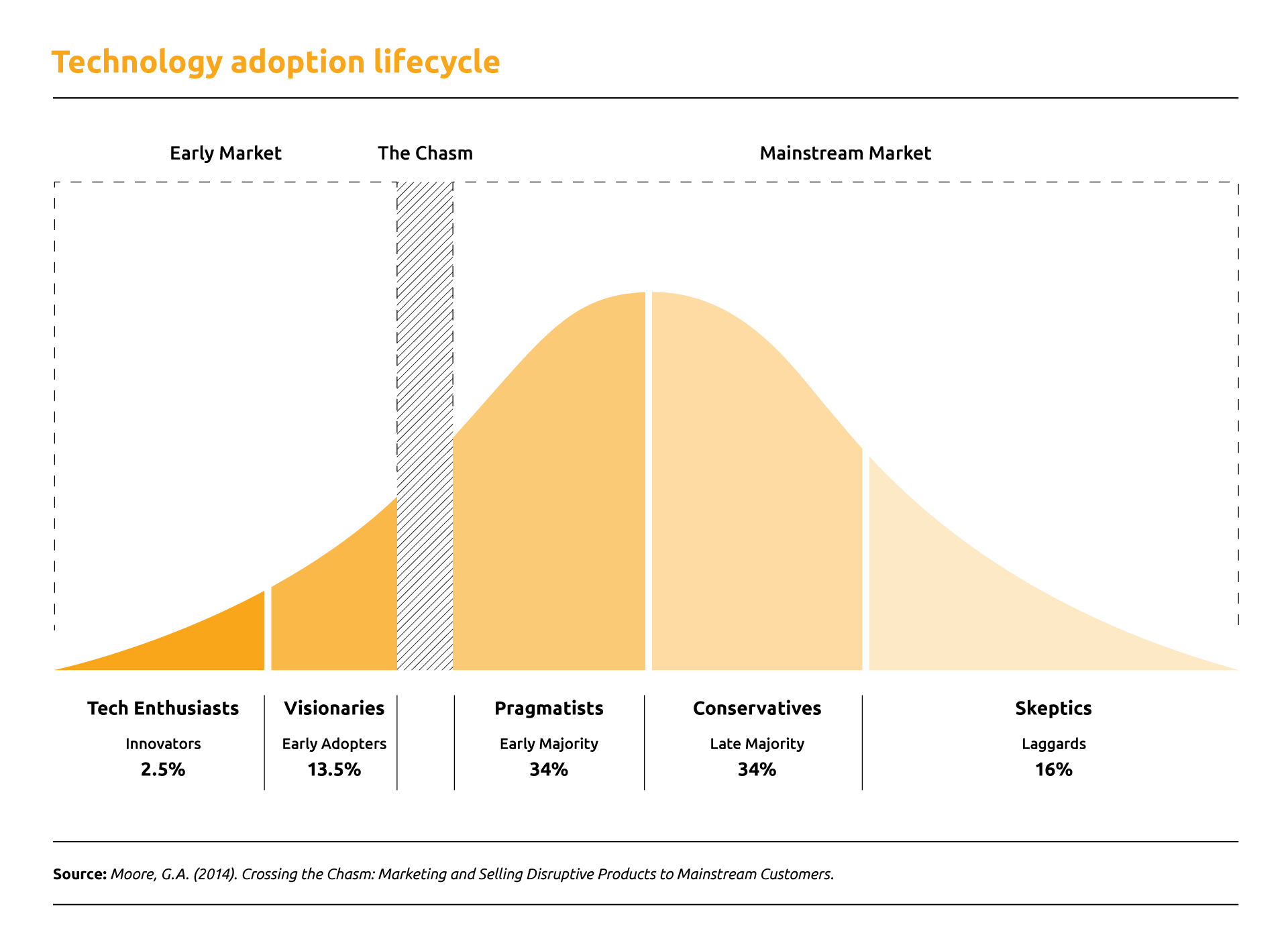 Early market
The early market, composed of innovators and early adopters, makes up 16% of your audience. The innovators get excited by 'new.' They rush in and want to test something new - in this case - your mobile wallet. Early adopters tend to have some hesitancy. They also want to try something new but usually want a few reviews to consult.
Mainstream market
Next up is the mainstream market, which is composed of three segments - the pragmatists (early majority), the conservatives (late majority) and finally, the sceptics (the laggards).
Once you've hit 30% of your audience, the adoption rate can be classed as "mass market." This means you've now got your innovators, early adopters and over 50% of your early majority segments using the mobile wallet.
The 'chasm' quite rightly highlights the challenge in ensuring the product is adopted by the pragmatics, the early majority.
Approaching your mobile wallet launch strategy with the adoption curve in mind can be hugely beneficial as it helps to emphasise the different communication channels and styles you may need to take to get these different segments on board.
A suggested approach
We recommend taking a three pillar approach to your mobile wallet launch strategy, which includes:
Promotion - how to get guests to adopt the wallet
Loyalty

- how to keep guests using the wallet

Elevation

- how to deliver unique experiences to loyal users
Pillar 1: Promotion
Letting your guests know you're going cashless before you launch is key. The more touch points you have with guests before an event, the more likely they are to adopt the new wallet.
We recommend you plan cadenced communication across channels to support awareness and education. You should also use your ongoing communications to promote the wallet, from season ticket holder emails to in-app notifications.
Email
Email is the optimal channel for briefing guests on your wallet's launch, from describing how to register to communicating promotions users can take advantage of from the outset.
Social media
Social media is another powerful tool that can be crucial in promoting your wallet's adoption. We recommend a variety of posts that might include:
Buzzworthy announcements: Asserting your event/team/venue as a technology leader that is enabling mobile payments.
Launch education: Describing how mobile pay works and how to register.
Excitement builders: Creating countdowns to the launch along with messages about registration, what to expect on site and the benefits.
How to videos: Using videos to engage and educate. Some of our clients have tapped their influencer network to promote the wallet to their followers.
Promotions: Highlighting registration promotions.


In app
If you have a dedicated app your guests regularly use, it's a great place to promote adoption within your branded mobile space. Here are a couple of options we've seen work well:
In-app banners: Advertise the wallet on your app to catch users' eyes while browsing their favourite feeds and stats.
Push notifications: Send timely messages directly to app users to prompt wallet registration and amplify offers and incentives.
Website
Your website is your digital home base. Along with showcasing active offers you are running, you might employ your digital real estate to host a list of wallet FAQs.
Offline
In-venue and digital signage can be the ideal way to reach people who have a limited footprint online. It could also catch attention at just the right moment - when waiting in line to pay for something!
Pillar 2: Loyalty
Campaigns to drive usage
Now that you have your initial adopters, it's time to use promotions and giveaways to keep them using your wallet again and again. We suggest a mixture of ongoing campaigns and one-off rewards to keep your guests engaged.
Here are examples of ongoing campaigns our clients are running.
"Spend your first $100 get $10"
"Get $5 back for every $75 you spend"
"Get $10 for every $100 you spend"
One-off campaigns can be used to drive specific guest behaviours, whether you want them to arrive earlier, stay longer or simply make more purchases. These are some campaigns our clients have used to encourage guests to transact during quieter times.
"Happy hour - $5 complimentary balance that expires 15 minutes after gates open"
"Transact before First Pitch and get $5 to use during the game"
"Magic Minutes - if the team scores between the 50-55 minute mark, everyone will get $5 to use before the end of the match"
Percentage discounts and cashback
For some of our clients, it's also possible to offer percentage discounts to all attendees or specific user groups, or a percentage cashback for guests.
Pillar 3: Elevation
Leveraging your season ticket holders and most loyal customers
A great way to drive loyalty and guarantee your adoption baseline is by leveraging your season ticket holders and patrons.
Season ticket holder - Register & get a bonus $5
Season Ticket Member - water bottle giveaway
Surprise and delight initiative - 120 season ticket members were provided with $5
If your season ticket holders aren't already registered, you can use our email upload function to get unregistered season ticket holders to sign up to the wallet.
Renewal opportunities
Leverage our wallet as a tool to incentivize season ticket member renewals and other ticketing initiatives.
Money can't buy experiences
Beyond complimentary balances and giveaways, there are also opportunities to drive usage with "money can't buy" experiences. Whether you want to offer meet and greet opportunities, pre-event venue tours or autographed merchandise, there are tons of options.
None of this happens in isolation. Once onboarded, our clients are assigned a dedicated Account Manager who will work with you to drive adoption rates of the mobile wallet. After all, your success is our success too.
Wallet adoption is an ongoing process
A comprehensive launch plan is crucial to get your innovators and early adopters on board. You may find some marketing channels are better suited to reaching these early market segments. To ensure mass adoption, regular online and offline communications will spread the message to your audience. 'Social proof' such as end-user testimonials will also provide reassurance to the mainstream market.
We are here to help
At Tappit, we consider our clients as our partners. As part of the onboarding process, you will be assigned an Account Manager who will support you in launching your mobile wallet and driving adoption. We know what good looks like, and we'll share with you best practices to ensure you get the most value out of your wallet.
Ready to get started?
Our mobile pay solution makes it easy for you to implement a mobile wallet into an existing app or offer a web wallet version to your guests. We can integrate with any technology stack and have you up and running in no time. Just get in touch with us to arrange a demo.
Return to Mobile wallets: The definitive guide