The types of cashless payments for events are varied and each has their own benefits and constraints. Before you choose which cashless payment solution to implement it's imperative that they are reviewed in the context business of objectives first to ensure you make the right choice.
Global trends in cash usage
If you've made the decision to take your venue or event cashless, from the cashless trends we're seeing across the world, we'd say you're in good company right now. The popularity of cashless payments since the start of the pandemic has exploded and shows no sign of slowing down as we move into the 'new normal'. A key push factor is that people have been reluctant to handle cash since Covid hit. As a result, cashless transaction volumes have rocketed and the adoption of technologies such as mobile payments has accelerated.
Mckinsey's 2020 Global Payments Report illustrates this dramatic decline in cash usage across the globe.
Cash usage by country: % of cash used in total transactions by volume, %

Pull factors are also at play here. Event, stadia and venue businesses need to reassure people that it will be safe to come back to their venues post-pandemic. Eliminating the use of cash can help with this goal.
Similarly, the global crisis has highlighted the huge data gap that many organisations have, as stadiums and venues have remained closed or operate with greatly reduced numbers. Without customer data it's incredibly difficult to keep your fans engaged.
The types of cashless payments
Square, the payments company, defines cashless payments as: 'Cashless transactions [payments] are conducted electronically and without the use of paper or coin currency.'
A note on contactless
Whilst you may often hear the terms cashless, contactless and touchless being used interchangeably there is actually a huge difference. More on that here. The marked difference mainly comes down to who owns the transaction data. With contactless and touchless solutions, all transaction data goes to the bank whereas cashless solutions provide your business with your customers' data.
Here's a bit more detail on the different types of cashless payments.
Reverse ATMS
These are cash kiosks that convert notes and coins into a prepaid card for spending at venues including shopping malls and sports stadiums. In some ways this is the easiest way to go cashless. Reverse ATMs literally take cash and turn it into a usable payment card. Reverse ATMs can be a popular solution as you simply purchase or hire a machine, plug it in and you have easily installed a system to reduce cash handling at your venue. However, there are a number of considerations to be aware of :
Reverse ATMs can be expensive to purchase or hire
You don't get any fan data or information about spend
Operational and security issues around cash use and theft remain
Physical contact with machines, cards and cash are still involved, doing little to alleviate COVID concerns around handling cash
Fans will need to queue to change their cash for a card, reducing the quality of the fan experience and causing social distancing concerns
Money laundering risks
Getting refunds can be a challenge for fans
Bank card
We already use them, and contactless bank card payments are increasing in usage across the US whilst in many countries they've been commonplace for some years now. This change in attitudes and behaviour would make the implementation relatively easy. However, there are some drawbacks to consider:
You don't get any fan data or information about spend
Limit on contactless transactions in terms of size and the number of transactions allowed before you need to enter your PIN anyway
Unable to offer incentives to drive consumer spending at your venue
You don't get any fan data or information about spend
No sponsorship opportunity
Contactless RFID
Contactless RFID is typically available in the form of a wristband, and are hugely popular at festivals, concerts, exhibitions and spaces where the mobile signal is temperamental as they don't require WIFI to operate. Our experience is that businesses see a 22% increase in revenue on average when they implement our cashless RFID solution and transactions are up to 80% times faster.
If gleaning customer data is important to your business, then contactless RFID should be one of your options, as you own all the data and it's available to you in real-time. You know who's bought what, when and from where and armed with this information you can make on-the-spot improvements to boost revenue.
From a fan's point of view contactless RFID is popular, as queueing times are reduced and there's the convenience of not having to carry cash. This, in turn, reduces the risk of theft – a winner for both fans and event organisers.
Digital wallets
The number of payments made via a smartphone has increased dramatically in recent years, and it's predicted that mobile payments will be the second most common payment method after debit cards by 2022. Mobile transactions are rapidly on the increase, and are driven in the main by generation Z and who have readily adopted this technology. A business choosing to implement a mobile pay solution can do so in one of two ways – either use a third party mobile payment provider ( e.g. Apple Pay, Google pay) or a white label version.
Third party mobile wallet
These mobile payment technologies use NFC (near field communication) technology which is an extension of RFID technology. Some of the major third party providers are Apple Pay, Samsung Pay and Paypal. These solutions have millions of users worldwide.
This route does have a few drawbacks however:
You don't gain any data insights from transactions made via your mobile app. The data is only visible to the third party payment provider.
No sponsorship opportunities, as creating an in-app payment solution can give you a new category for brands to sponsor.
Reduced fan engagement with your app.
Transactions need to be made at a closer proximity than with QR codes.
White label mobile payments
A white label mobile payment solution, means utilising the digital wallet technology of a third party which integrates into your own company app. As it's white label, it has your company branding, is a frictionless experience for your fans and all data collected as a result of transactions made in the app belong to your company. A white label mobile solution allows you to have contactless payments, venue access control, loyalty and ticketing all in one mobile ecosystem. Starbucks is a great example of a hugely popular branded app. Some further benefits:
Safety – eliminates the need for cards or cash. QR codes are used for transactions meaning customers can purchase at a further distance than any other payment method
Simplicity – white label digital wallet solutions are fairly simple to integrate with your existing systems. The Tappit Mobile Pay solution for example just requires an upgrade to your existing POS
Increase value for your sponsors – know who your VIPs are and how best to target them
Integrate with loyalty schemes, reward programmes and your existing venue and finance partners
Totally understand your fans – gather data on your customers' spending journey with you then utilise this to drive fan engagement, customer retention and profit
Cashless payment options summary
Here's a quick reference of each cashless payment solution and some of the key advantages and drawbacks of each method.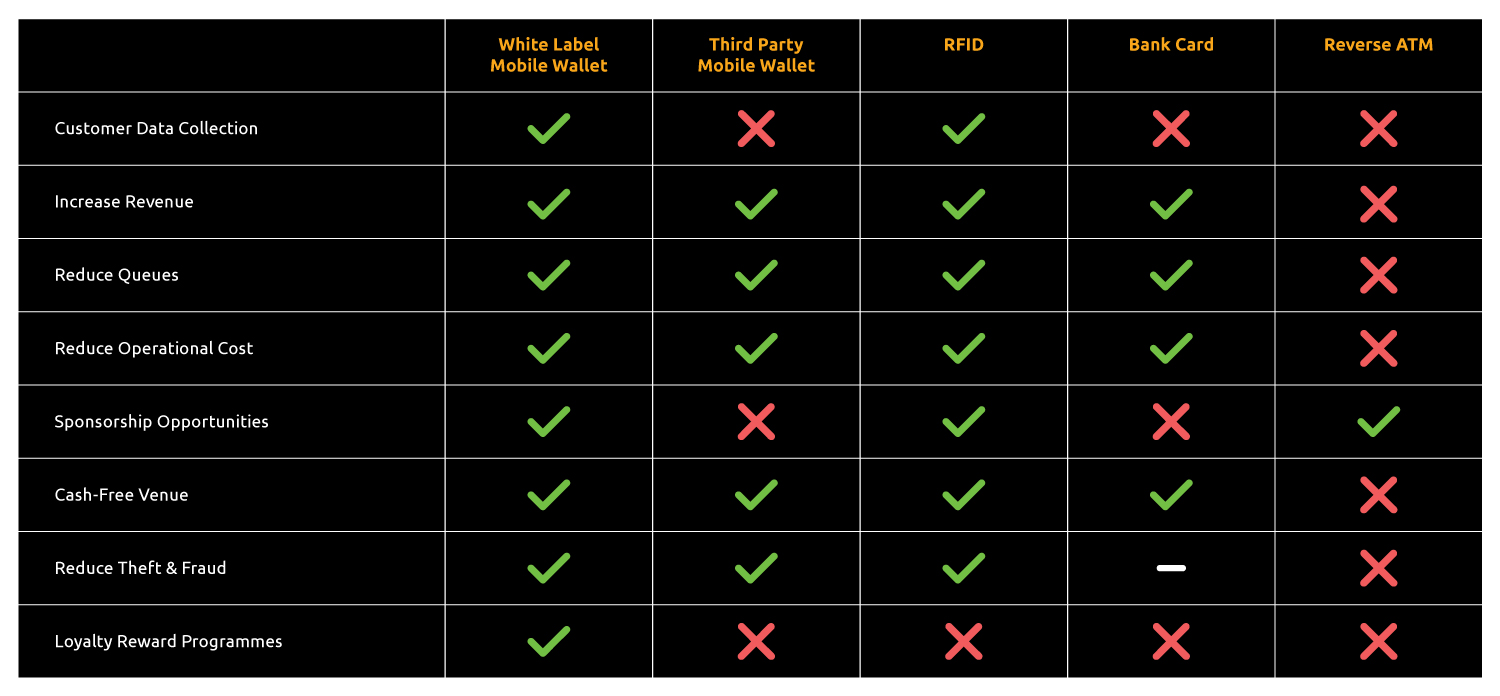 So which cashless payment option is right for your business?
It can feel like choosing to go cashless is the easy part. The decision as to which cashless payment solution to go with can require more thought and before choosing your preferred route, it's crucial to consider your business goals first.
With the exception of Reverse ATMs which offer few benefits to either merchants or fans, the remaining cashless options share many benefits. Whether you see some of their short-comings as issues for your business will very much depend on what your business objectives are.
Take a look at this decision tree which asks some of the most important questions you need to consider before deciding on the optimum solution.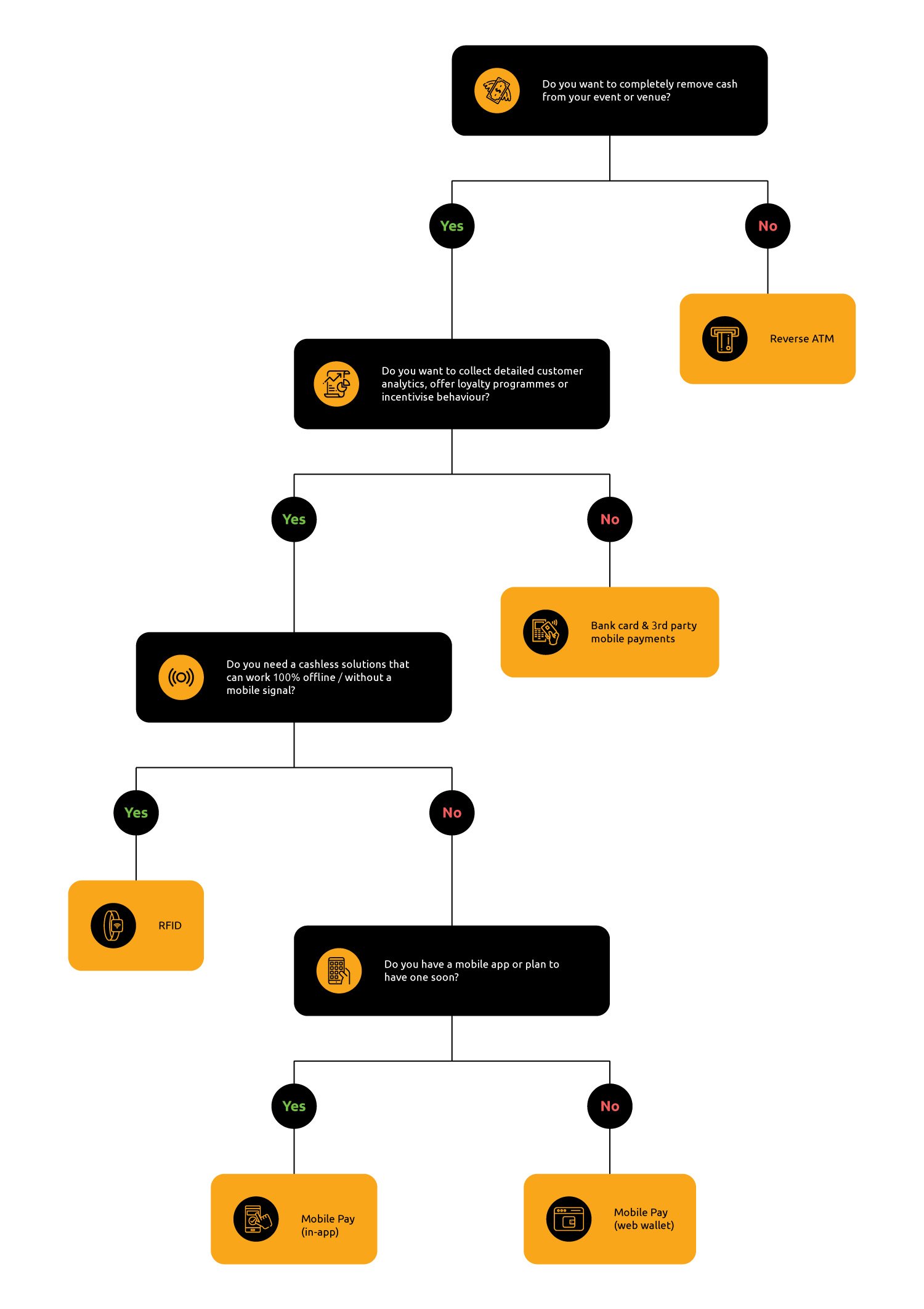 Conclusion
If you want to improve attendee experience, boost profits and gain the data insights to futureproof your business through loyatly, engagement and sponsorship – cashless RFID or a white-label mobile payment solution are your best options.
Other considerations when assessing cashless payment solutions should be the hardware investment required to implement the chosen solution, the lead time and the demographic of your customer base.
Our cashless payments guide is worth a read if you want to delve further into the different cashless payment options for events.
If you want to know more about how Tappit is helping businesses to implement cashless payment solutions, and which options would best help you thrive in the 'new normal', just get in touch with us to discuss your needs.