It can feel like choosing to go cashless is the easy part. The decision as to which cashless payment system to go with can require more thought. There are many types of cashless payment options available today, and a number share similar advantages and drawbacks. Cutting through the complexity can be a challenge.
Implementing a new payment system requires financial investment and so choosing the wrong route to going cashless can prove to be a costly mistake. To ensure you choose the right option for the long-term growth of your business, we recommend you first identify your business objective(s) for going cashless and then assess the relative merits of each option against your business objective criteria.
Below, we pick out some key business objectives and the recommended cashless solution to meet that objective. Don't want to read the detail? If you prefer the abridged version - check out our decision tree at the end of this post.
Objective: Increase onsite revenue
Solution: Tappit RFID or Tappit Mobile Pay
What makes people spend more money? Studies have shown that people who spend money using contactless technologies are less likely to experience the psychological feeling of loss that comes with spending physical cash.
At Tappit, we see our clients achieve revenue increases of around 22% when implementing RFID cashless payments. And the San Diego Padres have seen increases of 25% in average spend per person since implementing Tappit's Mobile Pay.
Cashless payment systems also drive down operating costs. Costs associated with cash handling are removed, theft and fraud is eliminated and staffing costs can be reduced due to improved access control and zone management.
Objective: Offline cashless system that works without wifi
Solution: Tappit RFID
Large-scale greenfield festivals were early adopters of cashless payment systems. As early as 2012, the first festivals started to make the switch. And where they began, many others have continued to follow suit over the last 10 years. RFID is the ideal solution for locations where wifi is an issue - such as a greenfield site or an incredibly busy venue.
Objective: Collect customer data and analytics
Solution: Tappit RFID or Tappit Mobile Pay
Data is one of the most valuable assets of any business. The ability to acquire rich consumer data enables your business to forge one-to-one relationships with consumers to drive revenue, loyalty and engagement. It's the utilisation of data that ensures you can provide a personalised message or offer to an individual consumer at the right place and at the right time.
And first party customer data is becoming increasingly valuable as legislative changes are resulting in the demise of third party data and reducing its effectiveness. As a result, businesses are pivoting to invest in first party data collection strategies.
The only way for you to take full ownership of your event data - to collect first-party data on every individual who attends your event or venue - is to implement a cashless payment system such as cashless RFID or a white-label mobile wallet. These are the only cashless payment options to provide organisations with their own data ecosystem.
Third party mobile wallets and contactless bank cards cannot meet this business objective. The data is owned by the third-party payment systems, so the event or venue is unable to access it.
Key takeaway: The only way to take full ownership of your event data is to implement a cashless payment system.
Objective: Generate sponsorship
Solution: Tappit RFID or Tappit Mobile Pay
Sponsorship is the financial lifeblood of most festivals and sports organisations. Without sponsorship, many live events would struggle to exist. As sponsorship is a form of investment to support an event, it's crucial that event organisers can demonstrate the mutual benefit of the sponsorship agreement to secure subsequent sponsorship and indeed attract new sponsors.
RFID and whitelabel mobile wallets deliver better insights to sponsors. They allow event organisers to collect more information on guests and their behaviours, at a granular level of detail. Proving ROI of sponsorships becomes much easier.
Equally, RFID and white-label mobile wallets open up new sponsorship opportunities. Brands can better target and communicate with guests both during and after the event. Customised messaging and offers can be sent to targeted groups at the right time. ROI of any campaign activity is readily available.
Brands can sponsor RFID bracelets or mobile apps.
Objective: Drive customer loyalty
Solution: Tappit Mobile Pay
The ability to integrate loyalty programmes with an existing company-branded app is a key driver for many businesses to go cashless with a white-label mobile wallet. Starbucks mobile wallet is one of the best in class examples out there. The apps success is not due to the ease of payment with a phone compared to cash or debit or credit card but the fact the customer can see the incentives and rewards he is going to get that will further increase his loyalty with Starbucks.
Tappit's Mobile Pay features a loyalty program module which allows our customers to create targeted rewards based on customer behaviour, to drive adoption, engagement and loyalty.
As well as offering cashless payments, and gleaning all the associated customer transaction data from any purchases, organisations can reward loyalty and incentivise customer behaviour too, all via the mobile wallet. The ability to offer a loyalty programme alongside a mobile wallet is a powerful aid to adoption - as consumers are getting something more than simply paying by debit or credit card.
Objective: Covid safety
Solution: Bank cards, 3rd party mobile payments, Tappit RFID, Tappit Mobile Pay
For those organisations who simply want to improve hygiene through removing cash, reducing lines and speeding up transactions there's a wide range of cashless options available to you.
They include contactless cards or third party mobile payments such as Apple Pay. Alternatively, a cashless payment system which uses RFID or a white-label mobile wallet are also available to you. However, the investment in a cashless payment system probably isn't worth it if all you want to do is remove cash from your event or venue and allow your guests to pay with contactless methods.
To help you assess which could be the right system for your business, we've put together this decision tree. Here's the most important questions you need to be asking yourself before determining the optimal cashless solution for your business.
Do you want to completely remove cash from your event or venue?
Do you want to collect detailed customer analytics, offer loyalty programmes or incentivise behaviour?
Do you need a cashless solution that can work 100% offline / without a mobile signal?
Do you have a mobile app or plan to have one soon?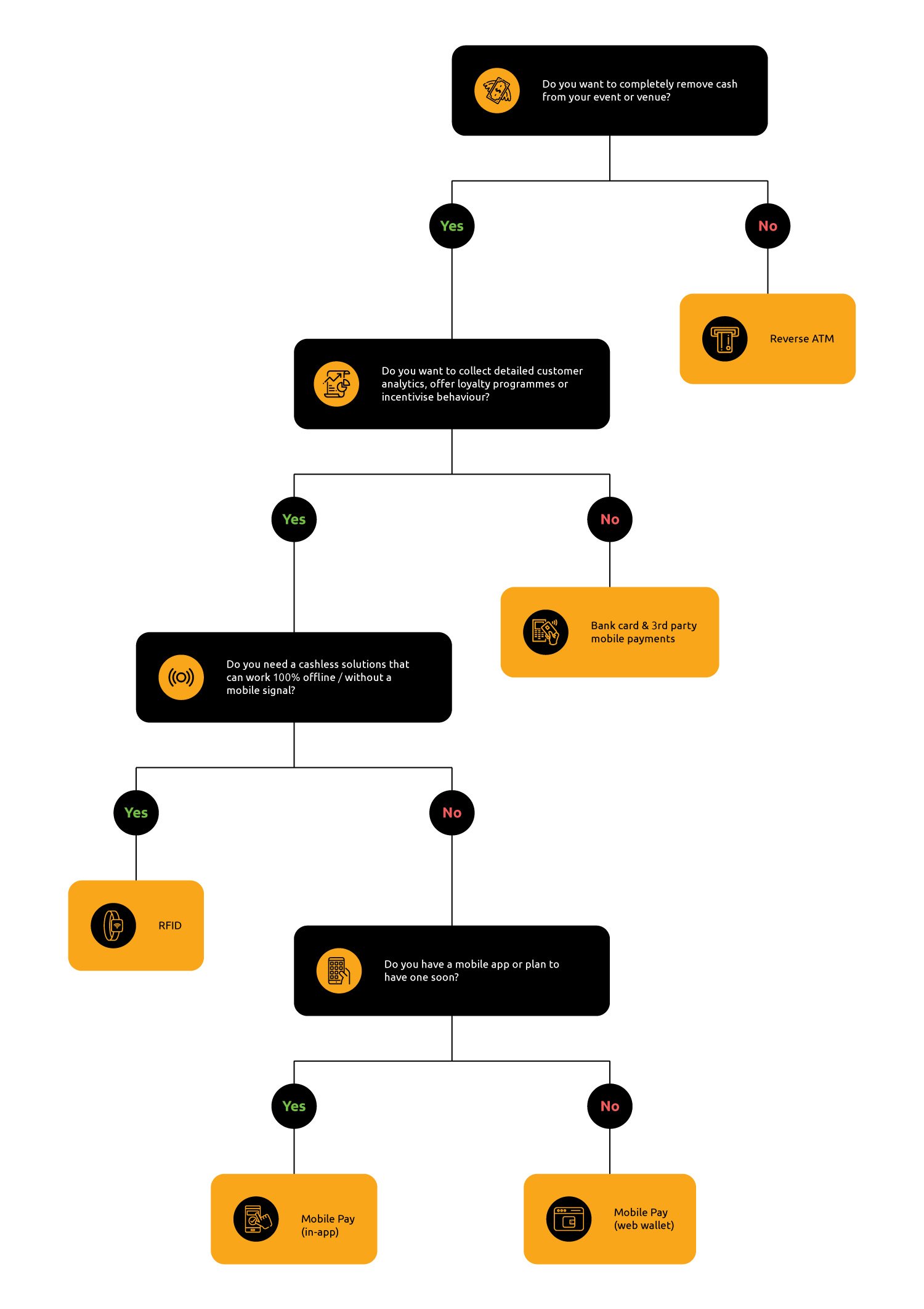 We're here to help you! If you'd like any more information about the different cashless options available to you, please get in touch with us.
Back to: The beginners guide to cashless payments